Onesie Pattern and Instructions by Dianne Noyes
Image enhanced in Paint Shop Pro 7 by webmaster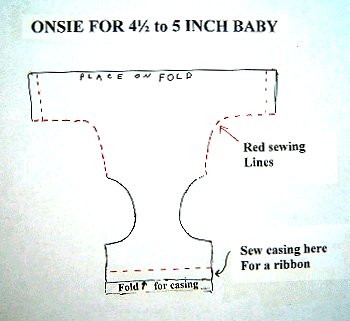 1. Draw pattern on fabric placing the arms on the fold.
2. Cut a wide margin around the pattern so you have a manageable size piece to sew on.
3. Hem the sleeves: Cut a half inch or more under the sleeves so you can fold the material on the solid line and stitch the hem, then trim close to the stitching.
4. Sew the side seams (red dash line).
5. You can cut the garment out now but plan on sewing a casing in one of the bottom flaps for a ribbon that will tie at the waist.
6. Cut a hole for the neck and cut down the back. I hand sew a thin ribbon around the neck to hide the raw edges and leave ends long enough to tie in a bow in the back.
7. The bottom front is cut shorter and tucked under the baby's bottom. The back flap with the casing and ribbon is put between the baby's legs and up to the waistline and the ribbon is tied in a bow in the back. Or if you prefer, you can make it so the ribbons tie in front.
8. The leg openings and the slit in back remain raw edges so use a material that does not fray a lot.
9. This pattern is for a 4 ˝ to 5 inch baby. It measures 5 ˝ inches across the top. I usually have to make more than one before I get one the right size. I keep redrawing the pattern until I get one to fit.
Onesie Pattern - Body Pattern - Car Seat Pattern
Pattern by Dianne Noyes
Click on thumbnail for larger image

Onesie Pattern - Body Pattern - Car Seat Pattern
Pattern by Dianne Noyes
Click on thumbnails for larger images

Cardboard
Seat Pieces


Cardboard
Base Pieces


Pattern for Seat
Cover and Pad


Assembled Car
Seat and Pad pieces

A finished example
Onesie Pattern - Body Pattern - Car Seat Pattern
Background from Absolute Background Textures